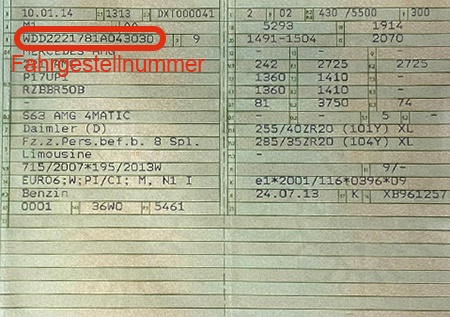 Please note that you need the chassis number, marked in red in the example image!
What can you read from the chassis number? In our example image we have marked all important information in red.
The chassis number is basically divided into 4 sections. The sections like on our example image can be broken down as follows.
WDD - World Manufacturer Code
222178 - basic model (222.178 notation in the item descriptions)
1 - right or left hand drive
A043030 - factory with serial number
For us, the basic model is primarily important so that we can correctly identify your defective parts and then advise you correctly. In the best case scenario, we will send the requested spare part immediately after ordering.
Technical contact form
Should you still have technical questions, please describe your problem to us and please do not forget to give us the corresponding chassis number and, if possible, the spare part you are talking about.
No personal data is saved, neither email address nor name. This contact form is used solely for contact by email.
If you would like to identify your vehicle yourself, please click the button below and have your registration certificate part 1 ready and enter your complete chassis number there, then you can search for the corresponding model in our shop.
Attention you are leaving our website! We assume no liability for the content in the VIN decoder.